September 2020
RW 137
Advent/Christmas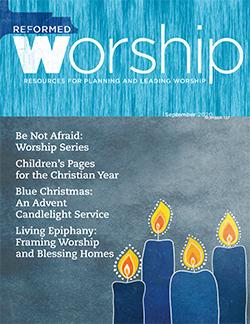 Articles in this issue:
Have you heard of the slow movement? Slow food? Slow living?

I remember celebrating only five holidays in church as a child: Christmas Eve, Christmas Day, Easter, Mother's Day, and Father's Day.

Q

How should we approach Advent in a year of pandemic and racial strife?

For many years our congregation has used an Advent wreath to mark time during the weeks before Christmas.

Writing a column like this means one is always writing with a certain bent toward the future.

Advent is coming, bringing with it the Advent cantata—and our discomfort.

She holds back
as muscle and bone clear a path,
remembering a promise spoken
by a voice only the soul can hear.