December 1993
RW 30
Lent/Easter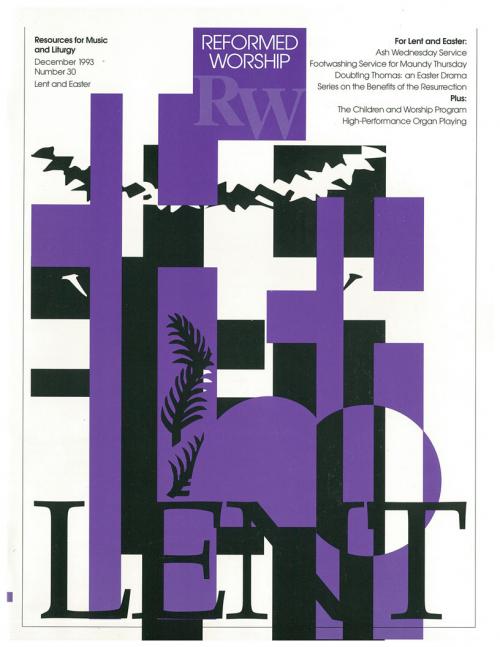 Articles in this issue:
MARCH

Christ, the Life of All the Living

It was lucky Conroy was in his office. Otherwise Jamie Laarman might have spilled it all to the secretary. That's how badly he needed to unload his frustration.

"He's not coming back in," Laarman told his principal. "I've had it with the jerk. He's pushed me over the line, and he's gone."

Conroy swung his chair away from the computer screen and stood. "Shut the door," he said. 'And who's got your kids?"

This Easter sunrise service is intended for a relatively small intimate group. It draws loosely from the Easter Vigil tradition, and through experience and participation tries to develop an awareness of and an appreciation for some historic Easter traditions. The music is simple, familial; and minimal, so neither an accompanist nor a hymnal is necessary. The sermon consists primarily of quotations from Scripture, minimizing the minister's work during an already very busy week. The italicized instructions are only for the information of the worship leader.

Staging Notes

Cast: Narrator, John, Thomas

Running Time: Approximately 6 minutes

This reader's theater piece is conceived for a variety of settings. It works equally well as a static piece (read at miavphones with limited gestures) or as a staged reading. In a staged reading, saipts are still carried in a bindei; but movement and gesture patterns are specifically determined. The following rendering of the script indicates only broad movement patterns.

 

Week Four
Shares in a Linked Network

Scripture

Exodus 17:8-16; Romans 8:31-35

Message

Sometimes we run scared because our prayers to God seem to fall on deaf ears. Is there nobody out there? Is God unable to help us? Doesn't God care? Or have we been such a disappointment that God has just given up on us?

It's time for church organists to stop apologizing for their "performance" in worship. For years people have been suspicious of the word "performance," usually reserved for more involved worship music played by well-trained organists. They Ve somehow had the idea that any music included in the service should be simple and ordinary, not complex and technically difficult.

FOREST GREEN (one measure)

[See accompaniment in All Praise to You Eternal God by Donald Busarow.]
"All Beautiful the March of Days"; "... the year in beauty flows ..." (v. 3)
[PH 292.RL 9]

"As Those of Old Their Firstfruits Brought"; "... but share your love with neighbors, too..."
[PH 414]

"Eternal God, Whose Power Upholds"; "... in speech that flows to melody..." (v. 4)
[PH 412]

One of the greatest musical joys of childhood is singing a round for the first time. What a discovery that "Row, Row, Row Your Boat" can be sung by different voices all beginning at different times!

James D. Berkley, ed. Grand Rapids, MI: Baker Book House, 1992,499 pages.

This book is intended to be the first of a three-volume set. If the other two measure up to the quality of this one, the set will be a valuable reference source for anyone involved in pastoral ministry. The list of contributors to this volume include several dozen of the best-known and most-trusted authors in die field. In addition, scores of other authors provide sidebars and short articles.

Regina Kuehn. Chicago: Liturgy Training Publications, 1992.137 pages.

"All you've ever wanted to know about baptismal fonts." You will find that and more in Kuehn's book. The text is directed largely at a Roman Catholic audience, and most of the examples are from Catholic churches (except those fonts illustrating immersion, which are borrowed mostly from Baptist churches).