December 1995
RW 38
Lent/Easter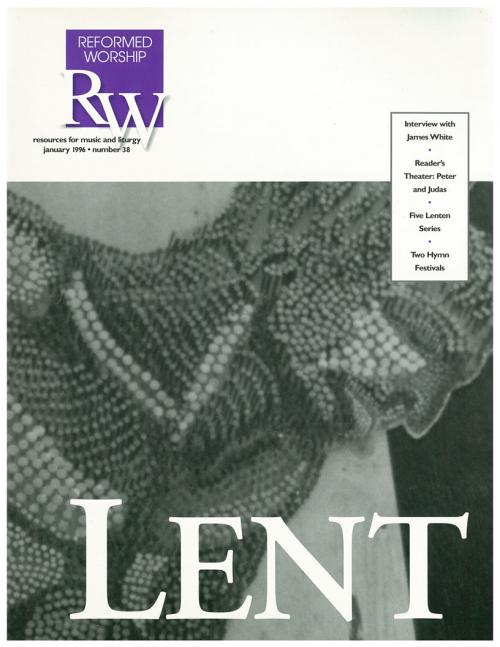 Articles in this issue:
We were buried with Christ through baptism into death in order that, just as Christ was raised from the dead through the glory of the Father, we too may live a new life.

—Romans 6:4

When they had sung a hymn, they went out to the Mount of Olives" (Matt. 26:30). As Christ and his disciples sang a hymn following the Passover, let us, in this season of remembrance and celebration, sing hymns with voices united to the risen and ascended Lord.

MARCH

My Lenten series in 1995 was designed to expose the nature of idolatry ("having or inventing something in which one trusts in place of or alongside of the only true God," Heidelberg Catechism Q & A 95). Despite the prophets' persistent exposure, many of us lightly dismiss the possibility that we have divided, idolatrous hearts. An excellent resource for such a series is No God but God, edited by Os Guinness.

We used the quotes and teasers that begin the sections below in the newspaper ad we ran before each Sunday.

The idea for this series was planted when I first read the words to the carol "White Lent" in The Oxford Book of Carols (London: Oxford University Press, 1965. No. 144). The carol is six stanzas long, set to the familiar Christmas tune ANGEVIN, known to most of us as "O Leave Your Sheep." It was the third stanza that so struck me:

I love to preach, but as I thought back over the lenten seasons of the last decade or so, I found it isn't the sermons of Lent that stand out in my memory. It's the liturgy as a whole. So much of our Reformed tradition revolves around the sermon, but Lent is beyond words. Lent and Easter are about actions. So my advice to pastors as they prepare for this season is, "Preach less in Lent."

In most Reformed and Presbyterian churches people do not kneel during prayer. Should they?

About one hundred years ago Abraham Kuyper, renowned Dutch theologian and prime minister of the 'Netherlands, addressed this question. His firm answer: Yes.

In the paragraphs that follow, Kuyper explains that kneeling was still customary as late as 1618, at the Synod of Dort. Various reasons and circumstances led to a change soon after that. But not very good reasons!

It is obvious from the Bible that God is a God of song. God loves music, and the heavens resound with it. He puts a song in the hearts of his people. From the beginning of the Bible to the end, there is singing. Moses leads the people of Israel in song after passing through the Red Sea. His sister Miriam joins and, with a great timbral chorus, dances before the Lord and sings the song of victory: "Sing to the Lord, for he has triumphed gloriously."