September 1998
RW 49
Advent/Christmas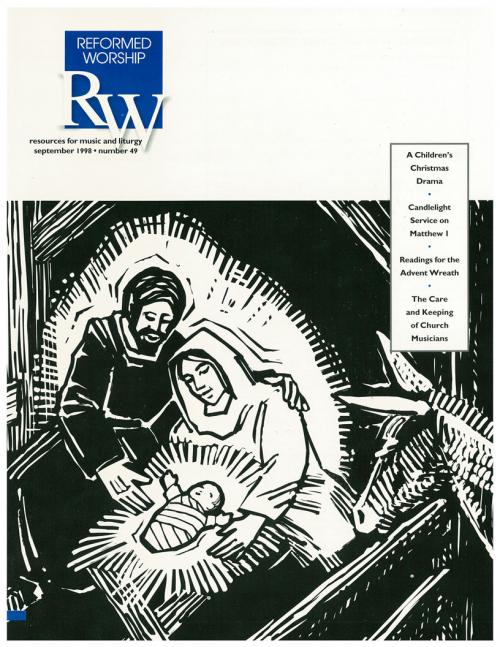 Articles in this issue:
Q. In our church, we begin every service with something called an "introit." What does that term mean?
—Georgia

The Presbyterian Hymnal Complete Concordance and Indexes, compiled by Judith L. Muck. Louisville, Kentucky: Westminster/John Knox Press, 1997. 340 pp. Paper $26.00.

Hymnsearch: Indexes for The Presbyterian Hymnal, compiled by William S. Smith. Jackson, Mississippi: William S. Smith, 1995. 458 pp.

The Presbyterian Hymnal: Software Edition, produced by Steve Metzger. Louisville, Kentucky: Westminster/John Knox Press, 1997. CD-ROM with some documentation. $199.00.

BGail Ramshaw. Minneapolis: Augsburg Fortress, 1997. Paper, 140 pp. Reviewed by Emily R. Brink, editor of Reformed Worship.

vol. 1 (232 pp.) 1994, vol. 2 (244 pp.) 1996, Communication Resources, Inc., 4150 Belden Village St., 4th floor, Canton, Ohio 44718. $39.00 per volume. Reviewed by Al Hoksbergen, a retired Christian Reformed pastor living in Spring Lake, Michigan.

The genealogy in Matthew 1 provides a list of "light bearers," saints whom God used to prepare the way until Jesus, the true Light of the world, was born. In this service, we walked through Matthew's genealogy, highlighting a few of the light bearers he mentions with some Scripture readings and songs that help us see why their particular light shone so brightly. The version printed below does not include the actual Scripture texts; however, we did prepare a script of the service including all the texts for the Scripture readers.

RESPONSE TO THE LORD'S SUPPER ISSUE (RW 48)

Thank you so much for the special issue on the Lord's Supper! I'm ordering copies for each member of our worship committee.

I especially appreciated Leonard Vander Zee's "Too Spiritual for Our Own Good." He's right about the centrality of both Word and sacrament in New Testament worship. The early Christians celebrated the Lord's Supper weekly without fear that it would thereby become routine and meaningless.

Once again the Advent season approaches, and with it comes a challenge for many congregations: How do we light the Advent wreath with integrity, so that its lighting encourages and enables a faithful passing on of the Christian faith?

Faced with this challenge, our congregation developed certain standards or guidelines for the rite of lighting the candles of the Advent wreath. Specifically, we want this rite to

RW WINS AWARDS AT ACP AND EPA CONVENTIONS

If you ever visit our offices at Reformed Worship, we'll show you our growing hallway gallery of awards received from the Associated Church Press (ACP) and (the Evangelical Press Association (EPA). Those organizations, consisting of several hundred religious periodical publishers, hold annual conventions and offer awards in a number of categories based on the previous year's issues.

Congratulations to several of our authors and staff for these 1997 awards:

God used angels to announce the news of the coming of Christ. As I thought about the first coming of Christ and the promise of his second coming, the following Scripture verses came to me—and out of those verses came the concept and design for the angel banner. The Scripture verses were placed in the bulletin for each Sunday of Advent and Christmas Day. Along with the banner, those verses served as an invitation for the people to prepare their hearts for worship.