December 1994
RW 34
Lent/Easter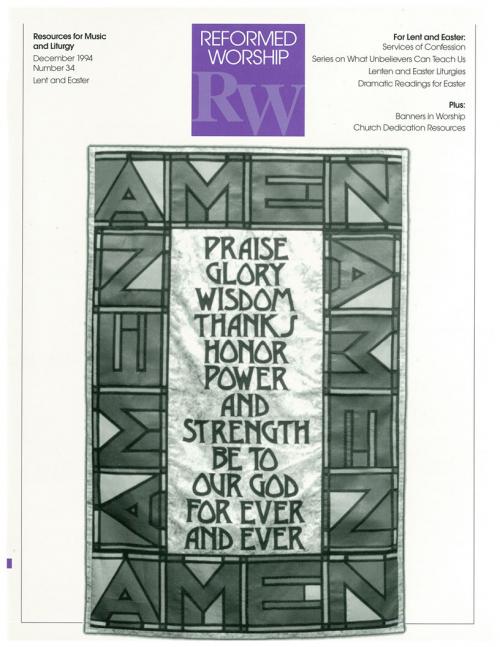 Articles in this issue:
Paul B. Brown. Minneapolis: Fortress Press, 1992.176 pp., $12.00.

James E White. Nashville: Abingdon, 1993.192 pp., $14.95.

From the time I was a teenager I enjoyed doing and viewing art—so much so that I made it my profession. But it was only recently that I began to contemplate how to relate the rich heritage of art, and especially the art that inspired generations of Christian worshipers, to public worship. Increasingly I have begun to crave the same visual feast that has fed worshipers in the past.

JESUS APPEARS TO SEVEN DISCIPLES
JOHN 21:1-14

Narrator: Jesus appeared once more to his disciples at Lake Tiberias. This is how it happened, Simon Peter, Thomas— called the Twin, Nathanael—the one from Cana in Galilee, the sons of Zebedee, and two other disciples of Jesus were all together. Simon Peter said to the others:

Peter: I am going fishing.

Disciple: We will come with you.

The Larger Catechism of the Westminster Standards (1648) asks and answers a very important question in Q&A 167:

Q. How is our baptism to be improved by us?

A. The needful but much neglected duty of improving our baptism, is to be performed by us all our life long, especially in the time of temptation, and when we are present at the administration of it to others...

NEW COLUMN COMING

Do you have questions about worship that you've always wanted to ask? Beginning next issue, RW will devote a new column to responding to your specific questions. Send your questions to Reformed Worship Q/ A by mail (2850 Kalamazoo, Grand Rapids, MI 49560) fax (616-246-0834) or e-mail (vantoll@crc-net.rnhs.compuserve.com).

NEWS / NOTES

March

We Are Climbing Jacob's Ladder

I have a friend who says, "In Lent we ought to be singing less of 'O Sacred Head Now Wounded' and more of 'May the Mind of Christ, My Savior."' My friend's point is that often in Lent we tend to focus more on the passion of Christ and less on our spiritual journey. "Jacob's Ladder" is a hymn that does focus on our journey, calling us to be soldiers of the cross and to love Jesus.

Entering God's Presence (1)

Songs

"Awesome God"
[PCB 196, SPW 11,]

"King of Kings"
[PCB 196, SPW 94, TWC 110]

God Greets Us (2)

We Praise God for His Presence (3)

Hymn "God Himself Is with Us," st. 1
[PsH 244, TH 382]

We Confess Who We Are

Litany of Confession and Pardon.
(See box.)

We Pass the Peace of God to Each Other (4)

In his book Suspicion and Faith (Eerd-mans, 1993) philosopher Merold West-phal makes the provocative suggestion that preachers use Sigmund Freud, Karl Marx, and Friedrich Nietzsche as the starting point for a series of Lenten reflections. Since these men were all profound atheists, Westphal's suggestion may at first seem merely absurd. But upon closer examination, it becomes apparent that the idea has merit.

An Easter service often begins with great festivity, with bright organ and trumpet music, with "all the lights up." Grace Covenant Presbyterian Church chose a different mood for this Easter service. Their concern was to remember that Easter morning is the completion of the Holy Week journey. So the service began the way it concluded on Good Friday: in darkness, with no banners, no flowers, no prelude.