September 1992
RW 25
Advent/Christmas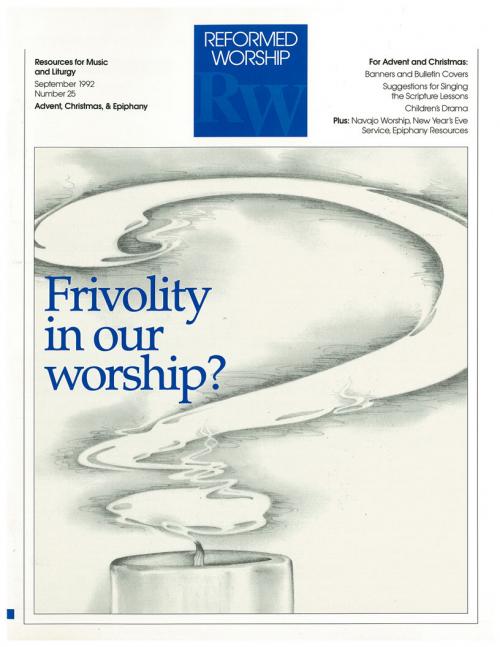 Articles in this issue:
Old Testament: Isaiah 2:1-5
Psalter: Psalm 122
Epistle: Romans 13:11-14
Gospel: Matthew 24:36-44

Old Testament: Isaiah 11:1-10
Psalter: Psalm 72:1-7, 18-19
Epistle: Romans 15:4-13
Gospel: Matthew 2:1-12

Two years ago a freak tornado whirled its way through Wyckoff, New Jersey. "This never happens here; this isn't Oklahoma," said the old-timers. Many of us shared that sentiment. What can you count on anymore when even weather patterns, that normally don't produce such destructive entities, prove unreliable?

Although the name Lowell Mason may be unfamiliar to many his hymn tunes are among the best known and best loved in our hymnals. It was Mason, for example, who composed the stately, reverent melody for "When I Survey the Wondrous Cross" and the majestic strains of "Joy to the World."

Old Testament: Isaiah 35
Psalter: Psalm 146:5-10
Epistle: James 5:7-10
Gospel: Matthew 11:2-ll

A merry Christmas in the Mojave Desert seemed to be a contradiction in terms to me! My favorite aunt repeatedly assured me of the beauties and the positive benefits that could be gained from hving in the desert. But I left the desert decidedly unconvinced.

The Native American Hymnal and Worship Resource Committee. Nashville: Discipleship Resources, 1992.94pp. Available for $9.95 from Discipleship Resources, PO Box 189, Nashville, TN 37202; (615) 340-7284.

Two publications dealing with Native American worship resources were published this year. The first, entitled Voices, is a product of the United Methodist Church, a leader among denominations in providing resources from many different traditions. Marilyn M. Hofstra, of Choctow and Chickasaw heritage, directed the project.

Old Testament: Isaiah 7:10-16
Psalter: Psalm 80:1-7, 17-19
Epistle: Romans 1:1-7
Gospel: Matthew 1:18-25

God is a sign painter! One of God's favorite hobbies is putting up signs in places obvious and hidden, clear and oblique, that reveal the "outskirts of his ways." The signs tell people that God is present with us.

Hugh McKellar. Published by the Hymn Society in the United States and Canada, 1992. 56 pages. Available from The Hymn Society, Texas Christian University, PO Box 30854, Fort Worth, TX 76129; (800) 843-4966.

Old Testament: Isaiah 9:2-7
Psalter: Psalm 96
Epistle: Titus 2:11-14
Gospel: Luke 2:1-14

Isaiah concludes the eighth chapter by describing a darkness so deep that people who experience it will have no dawn. Everywhere they look they will see distress and the gloom of anguish; and they will be thrust into deep darkness.

It was Heidi's fourth birthday, and we had planned to go on a family outing to Playland in Rye, New York. As we sar-dined ourselves into the "birthday mobile," we were in a festive mood, ready for a day of fun and celebration. But just as we were about to pull out of the driveway the telephone started its ominous j anglings. The kids were armed with ready wisdom, "They'll call back— c'mon, Dad." But Dad didn't listen; the Calvinist tug was too intense.

Old Testament: Isaiah 63:7-9
Psalter: Psalm 148
Epistle: Hebrews 2:10-18
Gospel: Matthew 2:13-23

Isaiah remembers, and as he does, the prophet begins to stammer. His reason yields to praise, and remembered history turns to worship. There are times, however rare, when words, concepts, and systems are not grandiose enough to be the cradle of the gift.