December 1989
RW 14
Lent/Easter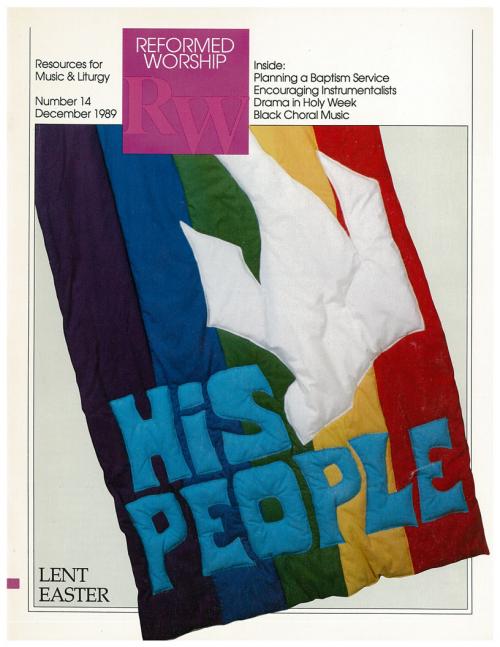 Articles in this issue:
Making baptism a celebration to remember

Joseph Stallings. San Jose, CA: Resource Publications, 1988,352 pp.,$11.95

As a Jewish believer in the Messiah, I am always interested in reading about how the church can "rediscover" its Jewish roots. Thus it was with anticipation that I read this book, written by a Catholic parish theologian, on a Christian understanding of Passover.

What place does the baptismal font have in our churches?

Usually when we think about or discuss baptism, we focus on biblical exegesis, theology, or the implications of the sacrament for Christian living. But another important aspect of baptism lies in its symbolism—symbolism that is carried partly by the baptismal font.

Thank you for the many fine articles and helpful suggestions in RW 12. You may be interested to know how I put Richard Coleman's article, "Beyond Moralism," into practice at Faith CRC.

I was to do a children's message on a phrase from the Lord's Prayer: "Thy will be done, on earth as it is in heaven." One approach that came to mind was to get the children to talk about ways in which they can do God's will: obey their parents, be kind to others, etc.

The old Sunday school table our executive committee was meeting around was pencil-marked and showed signs of paste. As I looked up from its surface to those who had gathered, I thought we looked a bit worn and tired. The days ahead would be busy: Maundy Thursday services tonight, community-wide Good Friday services tomorrow, and then the finale—Easter Sunday sunrise and morning worship. We had talked about our busy schedules as we made sandwiches in the kitchen.

Index to Reformed Worship

As you continue to use RW for worship planning, you may find an index helpful. We have compiled an index by subject and author, and we plan to update this index after each issue so that a cumulative running index will always be available for a small fee. To receive your copy of the index, please send $3.00 US or $3.50 CDN to Reformed Worship Index, 2850 Kalamazoo Ave. SE, Grand Rapids, MI, 49560.

The drama that follows was prepared for the opening of Palm Sunday worship in the Hope Community Church of Flaggstaff, Arizona, a congregation of only fifteen families. Fred Walhof, pastor of the small congregation and one of those who produced this drama, told us something of the history of and preparation for this special worship service:

Tenebrae, which is a Latin word meaning "shadows," has been observed in the church of Jesus Christ since the fourth century. On this Good Friday we remember the death of Jesus and recall his seven last words on the cross. As we remember the last words, we will extinguish the candles on the communion table, one by one. The gradual extinguishing of the candles will be accompanied by prayers, hymns, choral anthems, and readings from Scripture.

Dear Emily,
This was the first year we tried a sunrise service, and at first we thought it might draw only 25 people .We decide to go ahead anyway, and as we planed, more and more people got interest.When Easter morning finally arrived, we must have had about 80 people there, including some community people who had been contacted through our Coffebreak and Men's Life programs.