December 2011
RW 102
Lent/Easter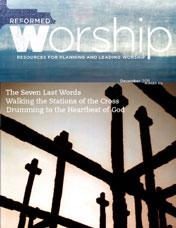 Articles in this issue:
One Congregation's Journey

The sun threw its first gloriously warm beams of the spring season upon the singing birds, busy trucks on the downtown street, a neighborhood band rehearsing somewhere out of view. Children scampered eagerly over the playground across the street as we gathered from our homes, schools, and places of employment.

There in God's Garden; When the Son of God Was Dying; Honduran Alleluia; See, What a Morning

The seasons of Lent and Easter bring countless images of our Lord's suffering, passion, and resurrection. What better way to capture the significance of this image-rich season than through these songs with their rich texts and music?

If Palm Sunday occurred today, how might it be covered by the media? That was the question I found myself asking as I was preparing for Palm Sunday and thinking about the gospel reading. My answer to that question comes in the form of the following Palm Sunday "broadcast."

While reading Tim Keller's book Counterfeit Gods and contemplating a series of messages on idolatry during the Lent season, I realized that perhaps each violation after the first two of the ten commandments (you shall have no other gods; you shall not make idols) points to some expression of idolatry. And then I read Keller's reference to what Martin Luther wrote in his Larger Catechism: "The fundamental motivation behind law breaking is idolatry."

Our church was looking for some new banner ideas for Lent and Easter. We decided to create two banners—one with an image of a crown of thorns, and another with an empty tomb. Here's an outline of the process we followed.

Confessions of faith come in many forms, from traditional ecumenical creeds like the Apostles' Creed to personal testimonies. The following is an exposition on the resurrection and what we believe about that historical event. It is appropriate to use anywhere a typical creed would function in a worship service, but it is especially appropriate for use on Easter Sunday during a service celebrating the resurrection.

—JB

Q. I've heard that baptism and Lent are supposed to go together, but I don't know why, and I haven't noticed any such connections made in my church. Should there be?