June 1991
RW 20
THEME: Praise and Worship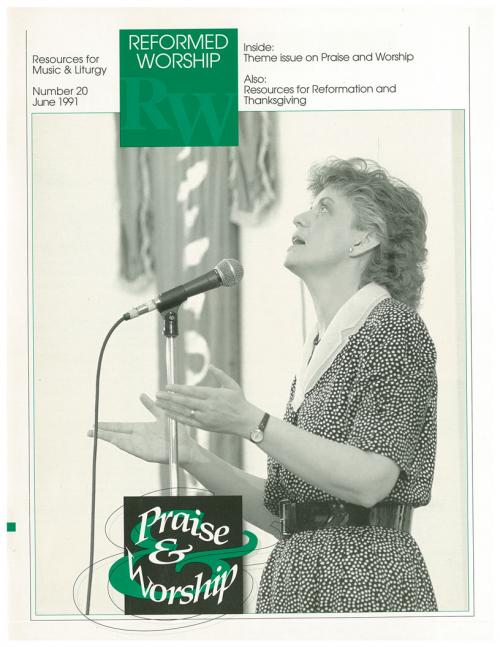 Articles in this issue:
For this theme issue we are breaking with the tradition of presenting three hymns for singing in three different months. Rather, in keeping with the style of Praise and Worship music, we include three songs that are presented in a medley fashion. The intention is for the congregation to have access to the words on overheads while the musicians play from the music. The transitions and the accompaniment for "Father, We Love You" were composed by Marie Elzinga.

Copy Right! Approved

Congratulations on Emily Brink's fine article "Copy Right!" (RW18). You did indeed get it right. Such articles are most helpful to those of us in the industry who are involved in this continuing educational problem.

Also please thank Ronald Wells for his interesting article on Thomas Cran-mer in that same issue.

George H. Shorney, President
Hope Publishing Company
Carol Stream, IL 60188

TOP TWENTY-FIVE SONGS
REQUESTED FROM CHRISTIAN COPYRIGHT LICENSING
October 1989 - March 1990

Learning to Worship: As a Way of Life. Graham Kendrick. Minneapolis, MN: Bethany House Pub., 1985. 214 pages.

Let Us Worship: The Believer's Response to God. Judson Cornwall. Plainfield, NJ: Bridge Pub., 1983. xi, 177 pages.

Worship His Majesty. Jack W. Hay-ford. Waco, TX: Word Books, 1987. 238 pages.

Praise and Worship is "in." But where does it come from?

James was the leader of the first Christian church, the church in Jerusalem (Acts 12:17; 13:15). His letter is written out of pastoral concern for the spiritual life of Christ's followers. In a very practical way, he addresses the actions and attitudes of Christians. The book of James is a protest against hypocrisy and a call for the transforming force of faith. The apostle's themes closely follow Jesus' teachings in the Sermon on the Mount.

WEEK 1
James 1

Pastor," said a young man, barely out of his teens, "don't take this personally, but the most boring thing that we do in our worship services is pray. I really have trouble staying awake—especially during the 'long prayer.'"

This young man's statement bothered me a great deal. He found prayer monotonous. He hinted that he didn't think praying was important. And I knew how damaging his attitude could be.

Like many of you, the things that I value in worship are deeply colored by my past. I grew up in a rather conservative, traditional church without much liturgical awareness. There was good fellowship and vibrant singing (our organist played at the local roller rink during the week, giving a certain energy and beat to the music when we sang). Fanny Crosby was a staple in our musical diet during worship, and we enjoyed having the minister accompany the congregational singing on his trombone.

The first time I took part in a Praise and Worship service I was the guest minister. The pastor of the church and I took our places on the pulpit at the beginning of the service. When the organ prelude ended, the pastor stood, welcomed the worshipers and me, proclaimed our dependence on God, and blessed the congregation. He then introduced not an opening song, but an opening time of praise.