March 1989
RW 11
Ascension/Pentecost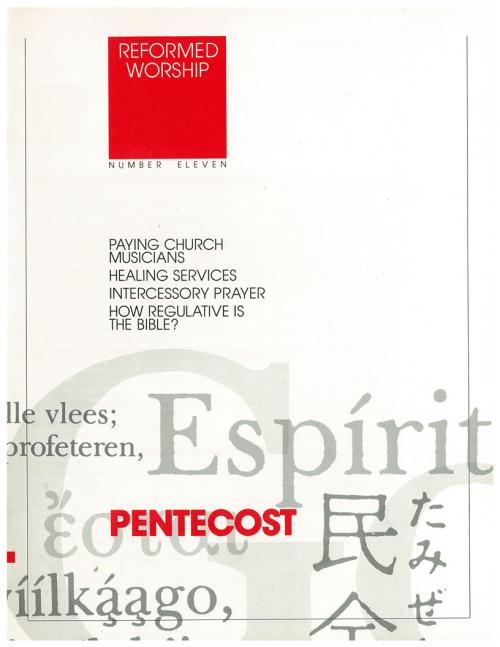 Articles in this issue:
A leading RCA pastor tells why churches ought to become involved.

Models for Paying Church Musicians

We knew we were on to a subject of intense interest when we conducted a survey on payment of church musicians. So we weren't surprised when the responses poured in after we printed the results of that survey in RW 9. Many respondents offered helpful perspectives and suggestions, some of which appeared in RW 10 (also see p. 46).

More on Paying the Piper

I hoped in the article "Paying the Piper" that you might also address the very basic and sensitive issue which I believe many churches are still dealing with :

"WHY pay the musicians?"

. Paul Westermeyer. New York: Harper & Row, 1988,128 pp., $14.95.

Conferences

May 16-19, 1989, Toronto, ON
Worship '89, A Liturgical Symposium: Daily Prayer through the week from Sunday to Sunday. Speakers: Elaine Ramshaw, Paul Bradshaw. Sponsored by the Canadian Liturgical Society at the Scarborough Campus of the University of Toronto. Contact: Rev. L. R. Likness, 25 Old York Mills Road, Willowdale, ON M2P 1B5, (416) 488-9430.

James R. Esther and Donald J. Bruggink. Grand Rapids, MI: Eerdmans Publishing Co., 1987, 85 pp. $3.95.

Having served as a member of the Liturgical Committee of the Christian Reformed Church for six years, I was naturally very much interested in this volume— the result of ten years of work of the Worship Committee of the Reformed Church in America. During that time some twenty persons worked on this project.

Often Ascension Day and Pentecost are overlooked by teachers, choir leaders, and others in the church who work with children. After all, these days usually fall late in the spring, when church school programs, choirs, and clubs are winding down.

Worship is at the heart of congregational life. Without so much as knowing the word liturgy, the people of God bring their praises and gifts, listen to the Word, are fed at the table, and are strengthened by each other's fellowship. Our congregational worship is good and pleasing to the Lord.

April

O Sons and Daughters

Psalter Hymnal 393
The Hymnbook 206
Rejoice in the Lord 318

This month's Easter hymn is a carol, a type of song usually associated with Christmas. Actually carols have been written for many seasons and occasions. (See "Carols for Easter," RW 6). They are spontaneous, direct, simple songs and can be either secular or sacred. The tune for this hymn, like most carols, has the quality of a joyful dance tune.

... our intercessory prayers are seldom as wide as the world.

I have a complaint against you, Pastor," said the old brother. He had seemed so happy to see me when he answered the door. "Ah, the pastor. Come on in." But I was barely seated before he wagged a bony finger at me and voiced his complaint.