March 1997
RW 43
Ascension/Pentecost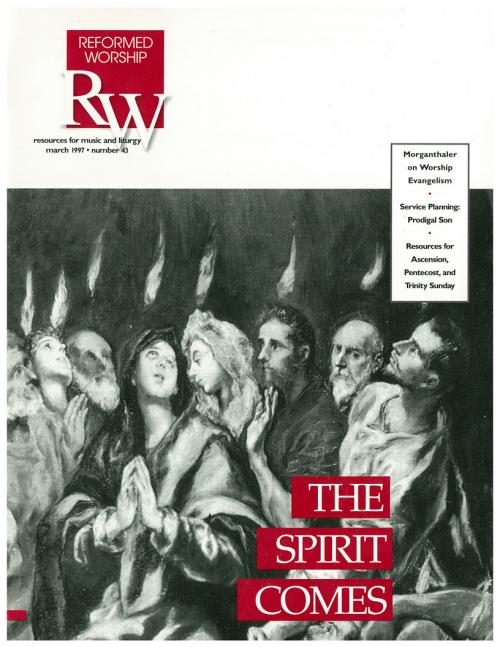 Articles in this issue:
The Sunday after Pentecost is often called Trinity Sunday in recognition that all three persons of the Trinity have now been remembered and celebrated in the great festivals of the Christian year. From now until Advent, we enter the long "Ordinary Time" or "Trinity Season" as some churches call it.

After the thrill of ordination, the reality of week-to-week pulpit ministry suddenly seemed much more difficult. Not only was I responsible for preparing two sermons a week, but I also had to develop seasonal liturgies and special Sunday liturgies, pick hymns, and, perhaps most challenging of all, lead the congregation in prayer. Besides the opening prayer, the prayer of confession, the prayer for illumination, and the applicatory prayer after the sermon, there was the congregational prayer. How do I prepare that many prayers each week? Do I write them?

Last summer Pastor Anduwatju was in Grand Rapids, Michigan, the site of the 1996 meeting of the Reformed Ecumenical Council a group that includes thirty denominations in twenty-one countries. During a break in the meetings, I had the opportunity to meet him and learn something about worship in his Indonesian setting.

—Emily R. Brink

RW: Please describe your church in Indonesia.

Q. Is there biblical support for the extravagant blood image in Andre Crouch's "The Blood Will Never Lose Its Power?"

A. I suppose that you are not questioning the "blood theology" of the hymn—that is the biblical teaching that we are saved by the suffering and death of Christ. Our being saved by the blood of Christ is a pervasive scriptural doctrine and is reflected in many hymns.

This past June, my home congregation learned that we would be losing one of our two pastors, the adult choir director, and the organist. They all left for good and different reasons. But the joy of Pentecost Sunday was muted when I heard that day that all three would be leaving.

God Gathers Us for Worship

Opening is structured as congregation is accustomed, with emphasis on praise for God's gracious-ness. Suggested hymns include "I Will Sing of My Redeemer" (PsH 479), "Oh, for a Thousand Tongues to Sing" (PsH 501, PH 466, RL 362, 363, TH 164).

God Embraces Us in Grace

Drama: The Wayward, Wanton, and Wasteful Daughter (see p. 24)

Second Edition. Chicago: G.I.A. Publications, 1994. Pew Edition, Choir Edition, Keyboard Accompaniment Edition, Guitar accompaniment Edition, Instrumental Edition.

God Gathers Us for Worship

Opening is structured as congregation is accustomed.

God Embraces Us in Grace

Reading: From Madeleine L'Engle's And It Was Good:

Reflections on Beginnings

We're not all alike.

When you open a pea pod, the peas look alike. It's difficult to tell one pea from another. Not so with people. Although to some folks all Hispanics may "look alike," we are as different from each other as one Anglo is from another. Not only are Mexicans different from each other, but Mexicans are different from Cubans, who are different from Puerto Ricans, who are different from Guatemalans.