March 2000
RW 55
Ascension/Pentecost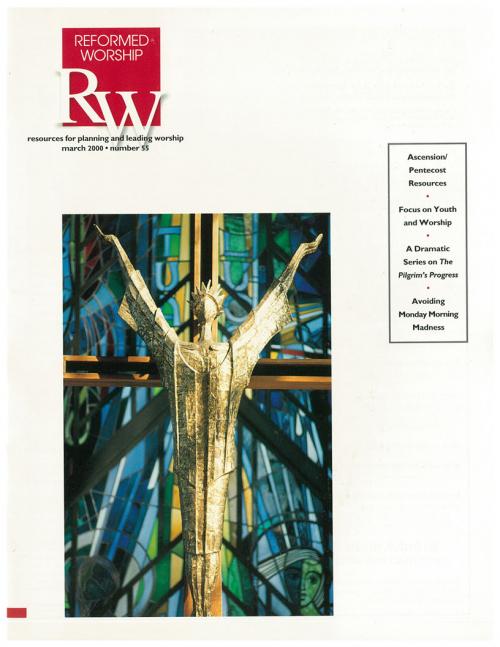 Articles in this issue:
Minneapolis: Augsburg Fortress Press, 1999. 264 songs plus liturgical resources including psalm settings. $12.50.

Pentecost Prayer

Holy Spirit, Lord and Giver of Life:

At the beginning of time you moved over the face of the waters;
you breathe into every living being the breath of life.

Come, Creator Spirit, and renew the whole creation.

Sung Refrain (see p. 37 for music)

Come, Holy Spirit.
Come, Holy Spirit.
Maranatha!
Come, Lord, come.

Q. Our worship coordinator has hccn stressing the importance of our visual appearance as we lead worship. She's been asking us for a lot more smiles. But I think she crossed a line when she said, "You can always tell when people are worshiping." I'm uncomfortable with this emphasis on appearance. What do you make of this?
—Michigan

Words are strange. Sometimes the longer you rthink about the use of a familiar word—or its spelling—the stranger it seems.

In the last issue, we showed you a design for a banner that could be hung for the sacrament of the Lord's Supper. In this issue, we've included a design for use on Sundays when the sacrament of baptism is celebrated. Compared to the communion banner, baptism should have been easy, right? Doves, rainbows, babies, drops of water--symbols abound. As it turned out, of the two, this was the more difficult to design.

For fourteen years it was pretty much the same story for me, When Monday dawned, 1 knew 1 had to find another two preaching texts for Sunday. It was amazing how many other things I found to do that kept me away from the search, but as Mondays evaporated into Tuesdays, a sense of desperation would set in. What was I going to preach on, and would 1 have the time and the creativity to write a good sermon, now that Tuesday was changing into Wednesday?

FROM SOUTHERN CALIFORNIA

At Biola University, a fifty-minute chapel is offered every day, Monday through Friday, but is required three times a week (M, W, F). Students have also initiated their own, student-led, worship services (mostly praise) on Wednesday and Sunday evenings. Two to three hundred students attend these guitar-based events.

Here are some changes I've witnessed in the last five years:

Recently I heard of a pastor who was trying to bring life and vitality to his medium-sized congregation's worship. He had become intrigued with "blended worship" and had experimented with adding some "contemporary" instrumentation and eliminating worship practices that might be considered too "high church." lie liked the concept of blended worship and was beginning to implement it, yet he still had reservations.