June 1992
RW 24
THEME: Funerals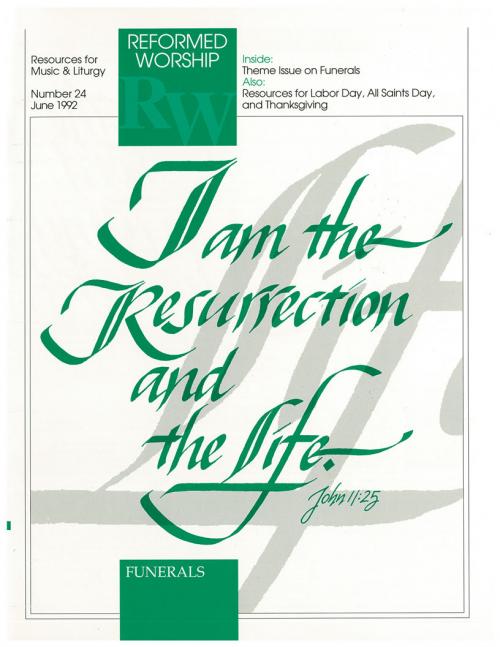 Articles in this issue:
All Glory, Laud, and Honor (D. Johnson, AF 11-5085)

Andy Langford. Nashville: Discipleship Resources, 1989. 26 pp.

This pamphlet is a brief version of the title above, intended as much for the family as for pastors. It does not contain the actual "Order of Service."

SEPTEMBER

Tell Your Children

September is a month of new beginnings for many churches. After a summer of travel and vacation, the community returns and seeks to be renewed through a new season of education and enrichment programs. "Tell Your Children/' a contemporary hymn that calls us as families and church family to retell "the Story" in the context of our covenant commitment with our God, is therefore very appropriate for September.

Eugene H. Peterson, Calvin Miller, and others. Waco, Texas: Word Books, 1987.176 pp. $10.95.

Opening Words of Scripture

As a father has compassion on his children,
so the LORD has compassion on those who fear him;
for he knows how we are formed,
he remembers that we are dust.
But from everlasting to everlasting
the LORD's love is with those who fear him,
and his righteousness with their children's children.
—Psalm 103:13,14,17

and/or

Edited by James R. Esther and Donald J. Bruggink. Grand Rapids, Michigan: Eerdmans, 1987. 85 pp. $3.95.

This series of sermon and song outlines from Acts focuses on the victory of the gospel of Jesus Christ.

The perils that the early church faced are similar to those we face today. Racism, legalism, and all kinds of "exclusivism" threatened to split the church. People were too easily convinced by worldly "wisdom" and were tempted to rely on magic and witchcraft.

Fall, 1986. (To order, write 100 Wither-spoon Street, Louisville, Kentucky, 40202-1396).

This special issue is devoted to funerals and provides many helpful insights.

Prelude

Welcome and Announcements

Call to Worship

Philadelphia: Westminster, 1986.104 pp. $8.95.