March 2001
RW 59
Ascension/Pentecost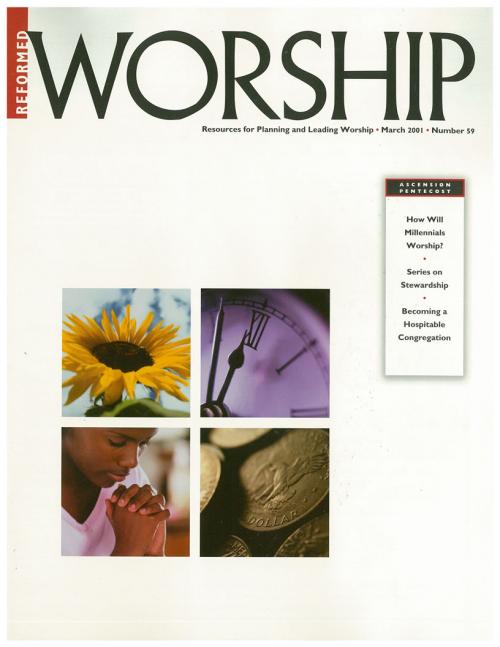 Articles in this issue:
For this service I simply took the teachings of the Heidelberg Catechism on the ascension of Christ and coordinated them with Scripture readings and songs (see Lord's Days 18 and 19, pp. 879-881 in the worship edition of the Psalter Hymnal.) Members of the congregation read the Scripture passages. The worship leader introduced each Scripture reading and song with a heading, which was also printed in the bulletin. We placed the sermon early in the service; but you could insert a sermon at any point in the service where it matches a particular theme.

God, You Call Us to This Place
Creation Sings! Each Plant and Tree
You Are Crowned with Many Crowns
Santo Espíritu, excelsa paloma/Holy Spirit,
from Heaven Descended

As Spirit-filled parents and children, we all need the Spirit's guidance each day. I prepared this prayer of thanks and petition for mothers based on the characteristics of the fruit of the Spirit as listed in Galatians 5, which was read before the prayer. Although Mother's Day is not part of the liturgical calendar, it is certainly appropriate to pray specifically for mothers. This prayer could be used as part of the intercessory prayer on Mother's Day or any other Sunday.

Listening to music on the Internet has become commonplace. These days, lots of folks are using Napster to download MP3 files from rock bands like Limp Bizkit. But others are logging on with a more devotional motive: to listen to and learn about psalms and hymns.

The Cyber Hymnal

Q. Worship services in our church are so fast-paced that I can barely keep up. What's the big rush?
—California

From: <pastored@pls.com>
To: <randyg@omnitron.com>
Date: 3/14/00 9:46PM
Subject: Ascension Day

9/27 Advance Planning for Next Month

That "testimony" service is coming up soon. Part of me knows it's a good thing, yet another part of me is nervous. Just about anything could happen if we just open things up for students to come forward and talk. Like open mike night at improv. How worshipful is that? I still remember an Easter service at an Episcopal church where a fellow stood up and droned on and on about El Salvador or something until the pastor finally cut him off. Ouch!

We asked Robert Webber, a long-time friend of Reformed Worship, to write an editorial for this issue in which we explore ways churches are dealing with the intersection of worship, culture, and evangelism. In this issue you'll find several different approaches from a variety of denominational traditions that we hope will stimulate discussion in your worship committees, and perhaps even better, in combined meetings of worship, youth, and evangelism staff and committees in your congregations.
—ERB

by the Cambridge Singers, directed by John Rutter. Collegium Records COLCD 126, distributed by Hinshaw Music Publishers. $16.95.
SATB Octavos: The Cambridge Singers Festival Hymn Series. Hinshaw HMC1732; HMC1790-1803; HMC1831. $1.25.
Congregational booklet for ten hymns in the series that call for congregational participation. Hinshaw HMB222. $5.95.