December 2005
RW 78
Lent/Easter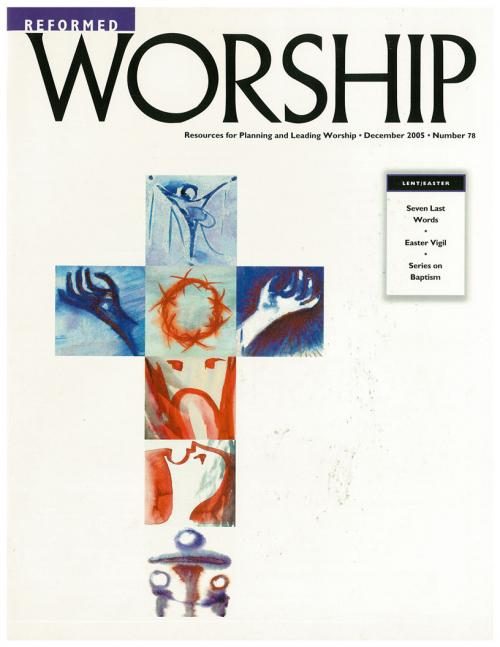 Articles in this issue:
Pete Ward. Paternoster Press, 2005. 235 pages. $15.00.

Northern hemisphere visitors to New Zealand at Christmas and Easter frequently comment on how topsy-turvy it all feels down here. We sing, in the words of Shirley Murray, one of this country's best known hymn writers, of an "upside-down Christmas" in which the traditional white Christmas of northern climes gives way to long summer days at the beach. And at Easter, the fresh scents and colors of the northern hemisphere spring give way to the muted colors and cooler temperatures of a southern hemisphere autumn.

Seminars Sponsored by Calvin Institute of Christian Worship

What would President Benjamin Harrison have thought of an accordion and a mandolin playing during worship in his church? The former U.S. president probably wasn't expecting that when he helped plan a new building for First Presbyterian Church in his hometown of Indianapolis, down the street from the house where he used to give campaign speeches on his front porch.

Like me, you're probably sick of hearing about mergers and acquisitions. Every day, it seems, I have to learn a new name for my phone company or bank or Internet provider. Sometimes these unions are made in heaven, other times . . . let's just say things were better as they were.

Nonethless, here's my suggestion for a merger. A merger that needs to happen: getting the "flower people" and the "banner people" together.

The organist seeking fresh ideas appropriate to Lent, Holy Week, and Easter worship has a wealth of recent compositions from which to choose.

The meal that we know as the Lord's Supper or the Eucharist is derived from a rich background of meals—meals and meal customs recorded in Scripture. Traces of these meals can be found in the sacrament.

Church-goers these days have rising expectations for the quality of worship. We want worship to be an authentic encounter with the living God, a quality gathering for the Christian community, and an effective means of reaching those exploring Christian faith. In fact, we have gradually placed more weight on the role of worship in accomplishing the church's mission.

If your congregation always sings from a hymnal or other songbook, you won't need this information. On the other hand, if your congregation sometimes uses projected songs or prints them in the bulletin, this article is for you. These FAQs will cover everything you've ever wanted to know (and maybe more) about copyright issues pertaining to music. Read it! You'll be glad you did. And you'll sleep well knowing your congregation is complying with copyright laws!

Q. Is every song protected by copyright?