September 2004
RW 73
Advent/Christmas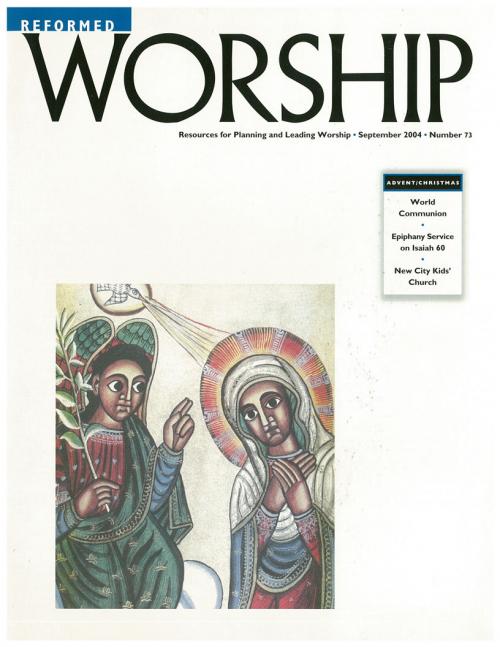 Articles in this issue:
Sometimes God uses things like this to strengthen the whole church," Ruth said to me, shortly after my father died.

In past issues, I've encouraged visual artists to involve themselves–because it's unlikely that anyone is going to go out of their way to invite them–with the video projections your church may be planning for its worship services. Here are a couple of guidelines to make sure that these projections enhance worship instead of detract from it. I'll use a series of Advent and Christmas visuals as examples.

Imagine the magnificent words and strains of Handel's Messiah combined with the exuberance and creativity of children's artwork, photography, music, and movement. The result makes for a memorable and worship-filled Christmas program for all ages.

During January 2004, worship at Calvin College, Grand Rapids, Michigan, focused on the message of Isaiah 60 (see also p. 22), in light of provocative discussion of this text in Richard Mouw's When the Kings Come Marching In: Isaiah and the New Jerusalem, (rev. ed. Eerdmans, 2002). The following service was prepared by a Symposium planning team for morning worship in the Calvin College Chapel during the Calvin Symposium on Worship and the Arts.

Q Our congregation has almost no musical talent, and so we had to hire a music director from beyond our fellowship. The challenge is that both this director and the congregation are frustrated with things they see as both problematic and fixable, but have no good forum for dealing with them in ways that won't cause all kinds of hurt. Do you have any advice for us?

—Illinois

This order of service was prepared for Reformation Sunday 2003 at First Presbyterian Church, Royal Oak, Michigan. It includes several liturgical elements from the Protestant Reformation of the sixteenth century, including contributions from Luther in Germany, Bucer in Strassbourg, Calvin in Geneva, Zwingli in Zurich, Knox in Scotland, and from the English Reformation. The songs include a psalm, canticle, and hymns from these traditions; they can be found in the Presbyterian Hymnal as well as in many other hymnals.

Call to Worship

This service was prepared for World Communion Sunday, the first Sunday in October, at Blythefield Christian Reformed Church. The service included songs from around the world sung by the congregation and/or choir, with several instrumentalists, and also a procession of flags of countries from around the world.

The three songs chosen for this column all come from England and are found in a new hymnal, Sing Glory, produced by Jubilate Hymns, Ltd., the publishing arm of a group of about sixty British clergy, authors, and musicians that have been active in preparing new songs for the church since the 1960s (see box on p. 31 and a review of Sing Glory on p. 47). The first song predates the formation of the Jubilate Group; the other two are by active members of the group.

—ERB

It's 102 degrees Fahrenheit outside and you're feeling every degree. Another car alarm goes off across the narrow, pothole-ridden street; you pay no mind and neither does the police unit that's just rolled by. The inhabitants of row houses lined block after block spill out onto their front porch stoops because it's hotter inside than out. A mother, too young to vote, cradles her infant as she watches her nieces and nephews joyously splash in the opened fire hydrant offering cool relief.