December 2003
RW 70
Lent/Easter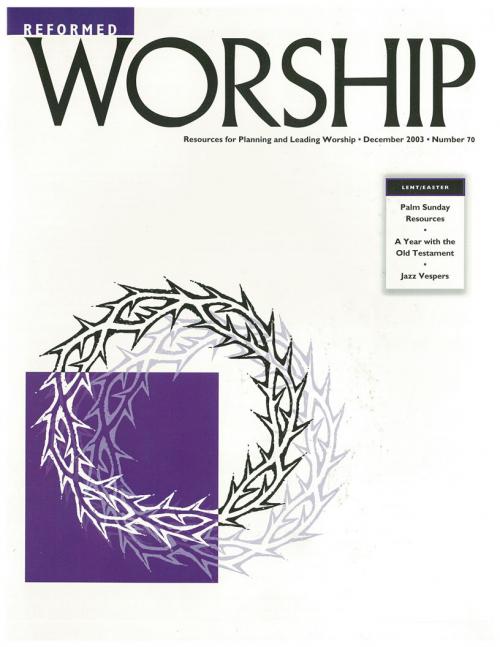 Articles in this issue:
LOFT (Living Our Faith Together) is the main student-run contemporary worship service at Calvin College. But it isn't the only one. A little over two years ago, students on campus began a midweek, late evening, jazz- and poetry-based prayer service held in an underground coffee house known as the Cave. Ron Rienstra coordinates that service as well as LOFT. This column is offered in response to many inquires about what goes on there.

A Kuyperian Experiment

D. A. Carson, ed. Grand Rapids: Zondervan, 2002. 256 pp. $16.99. ISBN 0310216257. www.zondervan.com

There have been several collections of essays published in the last few years. Though these collections don't provide narrative cohesiveness, they are able delve deeper into narrowly defined subject areas.

Editor's note: In popular usage, the word hymn can refer to the text only (typical in England), to text and tune only, or to the whole combination of text and music. In this article, the desire to return to old hymns is to return to the older texts, sometimes also the tunes, but definitely not the sounds of traditional hymns. Old hymn texts are finding new life in contemporary musical settings.

Todd E. Johnson, ed. Grand Rapids: Brazos Press, 2002. 240 pp. $22.99. ISBN 1587430320. www.bakerbooks.com

Isn't it self-evident that we worship God with who we are? Not really. In the medieval period priests and singers performed before silent spectators. And at the Reformation Ulrich Zwingli "conducted a monologue in the presence of a completely silent congregation" (Howard Hageman, Pulpit and Table, p. 120). There's not much difference between those two practices. The people could watch or listen, but who they were was omitted.

Lukas Vischer, ed. Grand Rapids: Eerdmans, 2003. 444 pp. $45.00. ISBN 0802805205. www.eerdmans.com

Q Thanks for your comments in RW 69 about ordination. I have one more question: What about the assurance of pardon? In our church, only a minister offers the benediction and greeting or leads the sacraments, but our lay leaders do the assurance of pardon. Is that permissible or advisable?

—Michigan

John D. Witvliet. Grand Rapids: Baker Academic, 2003. 320 pp. $26.99. ISBN 0801026237. www.bakerbooks.com

This final collection of essays is by a single author, John D. Witvliet. Witvliet has organized these essays, many previously published but here presented in revised form, into five broad categories: biblical, theological, historical, musical, and pastoral studies.

The title for this service is the same as the title of the funeral service in the Presbyterian Book of Common Worship (Westminster/ John Knox, 1993). On Easter Sunday, we bear witness to the dying and rising of Christ as well as to our own dying and rising with him (Rom. 6:4).