June 1990
RW 16
THEME: Weddings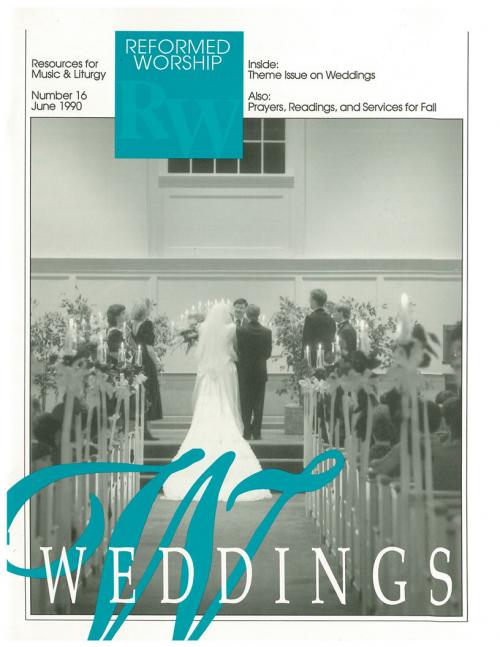 Articles in this issue:
Brief notes on books and resources from various Christian traditions

Hymns for September, October, and November

Hymns for September, October, and November

For many—especially in our churches and schools—autumn is a time of new beginnings. What better time to sing to the Lord some new songs?

September

Earth and All Stars

"Let them praise the name of the Lord!" The words of Psalm 148 exhort all creation to join in praise of God. In a similar way, Herbert Brokering's hymn text, "Earth and All Stars," calls the universe to unite and "Sing to the Lord a new song."

During this past year we have witnessed many great historical events. We have seen walls of hostility crumble and have been challenged by profound political changes. We have noted the important role of the church of Jesus Christ in many of these changes.

A Reading for World Hunger Sunday or Thanksgiving Day

Narrator: Stomachs protruding, bulging sore. Two boys. Two reasons.

First World Boy: Mom, can I have more turkey?

First World Mother: Help yourself—there's plenty more.

Third World Boy: Mom, isn't there anything to eat? My stomach's
sore!

Third World Mother: Maybe tomorrow.

Narrator: One mom laughs. The other mom cries.

Make a joyful noise to the Lord, all the lands!
Serve the Lord with gladness!
Come into his presence with
singing!

Lord of lords, Creator of all things, God of all things, God over all gods, God of sun and rain, you created the earth with a thought and with your breath.

Lord, we brought in the harvest. The rain watered the earth, the sun drew cassava and corn out of the clay. Your mercy showered blessing after blessing over our country. Creeks grew into rivers; swamps became lakes. Healthy fat cows grazed on the green sea of the savanna. The rain smoothed out the clay walls; the mosquitoes perished in the high waters.

I'm at the age now where I'm getting invitations to weddings of the next generation: nieces, nephews, and children of friends. Weddings haven't changed that much from a generation ago. For that matter, weddings have stayed remarkably unchanged for centuries. They, along with funerals, are just about the only ceremonies left in our culture that are broadly celebrated in similar ways.

Planning worship that becomes a meaningful dialogue between God and his people requires careful attention to each part of the liturgy. Every call to worship, response, assurance of pardon, and hymn should contribute to the theme of the service and to our ongoing conversation with our God.

In the series of service plans that follows I have attempted to emphasize that dialogue. Paul's first letter to the Thessalonians provides an ideal framework for a series of services that focus on thanksgiving.

The Book of Common Prayer calls marriage a "holy estate which Christ adorned and beautifiedwith his presence and first miracle that he wrought in Cana of Galilee." I like that very much, calling marriage a holy estate. And I'll tell you why.

For organ, other instruments, solo voice, and choir

Although nearly all church weddings include organ music, many couples seem uncertain about the place for other musicians in the ceremony. Should family and friends who are musicians be encouraged to do their part to make the occasion joyful and memorable?