March 1999
RW 51
Ascension/Pentecost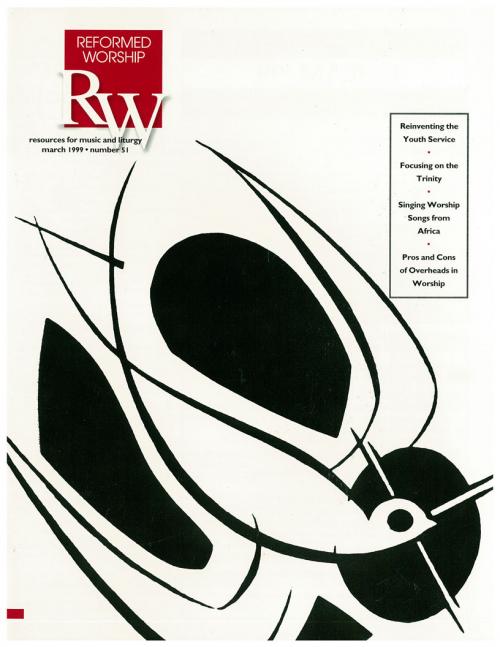 Articles in this issue:
Hughes Oliphant Old. Grand Rapids: Eerdmans, 1998. Vol. 1, 383 pp. $35.00; Vol. 2, 481 pp. $42.00.

CALVIN WORSHIP INSTITUTE ANNOUNCES WORSHIP RENEWAL GRANT PROGRAM

Do you have a dream for worship in your church that has not been possible because of lack of funding? Do you have a vision for worship renewal in your congregation that is waiting for a catalyst? If so, read on. . . .

Moving through the parts of a worship service has become more complex in recent years, particularly for churches that do not follow the same order of worship every Sunday. Also, using a variety of worship leaders calls for taking even greater care that the congregation be led in a way that helps them do what they have come to do: encounter the living God. Part of the task of a worship leader is to help the congregation move from one action to the next, to help them know what is coming and why it is coming.

The liturgical seasons of Advent, Christmas, Epiphany, Lent, and Easter take lots of time and energy. By the time Ascension Day and Pentecost come around, sometimes our energy is waning. The school year is coming to a close, choirs are finishing up, and we are looking forward to the freer time of summer. Suddenly Ascension Day is upon us. Since Ascension Day and Pentecost are two of the major religious holidays of the year, they deserve some special musical attention.

Our thanks to the thirty-nine members of the Calvin Theological Seminary community (students, spouses, staff, faculty) who responded to an open invitation to participate in this pro/con feature. Respondents were from the U.S., Canada, Korea, and Romania.

PRO

Using overhead projection of songs in worship is helpful for the following reasons:

Vineyard Community Church in Cincinnati, Ohio, has grown in fifteen years from six couples meeting in a living room to a congregation of three thousand that holds seven weekly worship services in its six-hundred-seat auditorium. Despite the fact that it has planted twelve daughter churches, it continues to grow. Twenty percent of its new members are recent converts. "I'm seriously praying about going to an eighth service," says founding pastor Steve Sjogren, "because it would make room for more seekers.

I recently heard a story about a woman in a shopping mall who accidentally dropped a large bag of items that scattered all over a busy aisle where lots of people were coming and going. As she quickly knelt down, trying to pick up everything, another woman also bent down and helped until every item was retrieved. The first woman, searching for a word of gratitude, blurted out, "The Lord be with you." Instantly the other woman responded, "And also with you." They laughed with joy and embraced.

If you've ever suffered through trying to organize an unfocused group of teenagers into a cohesive team of worship leaders, you may have asked yourself, "Why are we doing this?" That's the way we felt when we started working with our church youth group eight years ago. It took us a while to figure out how the youth service we had inherited fit in with the rest of the youth ministry program. Were we only going through the motions each year because "We've always done it that way"?

The computer is on. I'm staring at the screen, stuck on a phrase. Seated on chairs arranged in a half circle around me are the members of my pastor's class. Their handwritten creeds lie on my desk. We're involved in the creative process of pulling together their individual efforts into a statement of faith that speaks for all of us—something that includes an idea, a turn of phrase, a metaphor that each person can claim as his or her contribution to the whole. It's hard work.

This article is excerpted from a new booklet on planning worship in the popular So You've Been Asked To . . . series (see inside back cover for more information).

So You've Been Asked to . . . Plan a Worship Service includes sections on The Role of the Worship Planner, The Planning Process, Patterns for Efficient Planning, Long-Term Goals, Questions, and Resources.