March 2004
RW 71
Ascension/Pentecost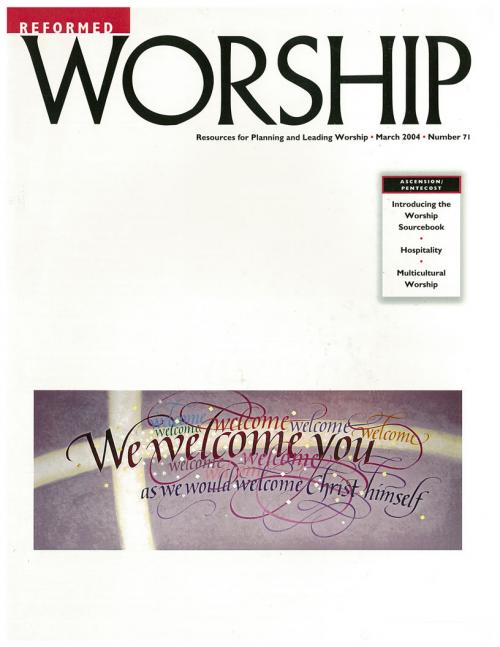 Articles in this issue:
God Has Gone Up with Shouts of Joy!

Click to listen [ melody ]

How should a worship leader respond to the individual who wants to offer a gift of music or some other performing art in a worship service? What standard do we use to determine if a believer is gifted in the area of interest? How should a worship leader decide if, in fact, including particular individuals in certain roles is appropriate in corporate worship? Are there biblical principles that can help worship leaders make such decisions?

This festival of song based on Romans 8 was the concluding service of the Calvin Symposium on Worship and the Arts, January 2003. It would be especially appropriate for use anytime between Ascension and Pentecost, or as background material for any service based on a portion of Romans 8. The entire chapter of Romans 8 was proclaimed from memory by different people who had been coached by Dennis Dewey (see RW 65). For this service, we celebrated in song the gifts from the body of Christ from many times and places, united by the power of the Spirit.

—ERB

For the past three years our church has planned a hymn festival service to mark the closing of the choir season before the summer break. We are a medium-sized congregation (400 members) blessed with several instrumentalists. In addition to organ and piano, this year we were able to add two flutes, four violins, and five brass players.

For all of its significance in the church year, creating a visual for Ascension Day is a tough assignment. Christ's work on earth was done and he returned to heaven to take his rightful place. The tricky part in representing this idea is the mix of tangible and intangible. We can imagine what it might be like to be among the disciples, but what about the part about Christ being taken into heaven and, as Mark writes, sitting at the right hand of God? Both ideas are critical to our understanding of what Christ did for us.

Q. I find my own worship suffering because of my role as a worship leader. I'm too concerned for the details of the service to really enter into worship. Any advice?
—California

A. This question comes up regularly in classes I've taught. Here are some insightful comments from my students, many of them veteran leaders:

In RW 69, we announced a new column on technology issues in worship, to alternate occasionally with the column "What's on the Web." This first article concentrates on the worship questions that precede the technical questions in using visual images.

>—RR

I remember unsettling conversations in the fellowship hall after worship. A middle-aged woman once said to me, "We returned home from Bethel Christian camp last night and the worship there was so inspiring! My husband and I were deeply blessed. I must confess it was difficult to worship here again this morning." Another time a teen had this to say: "We got back late last night from a week-long SERVE project. It was a blast! We all felt so close to each other and I grew so much in my walk with God.