March 2004
RW 71
Ascension/Pentecost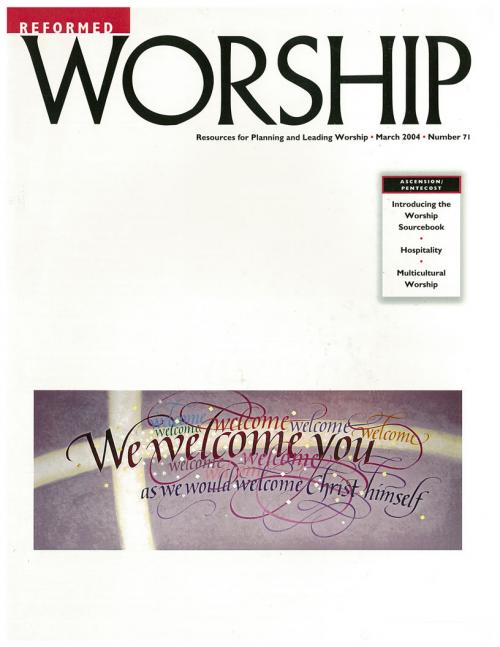 Articles in this issue:
For all of its significance in the church year, creating a visual for Ascension Day is a tough assignment. Christ's work on earth was done and he returned to heaven to take his rightful place. The tricky part in representing this idea is the mix of tangible and intangible. We can imagine what it might be like to be among the disciples, but what about the part about Christ being taken into heaven and, as Mark writes, sitting at the right hand of God? Both ideas are critical to our understanding of what Christ did for us.

Q. I find my own worship suffering because of my role as a worship leader. I'm too concerned for the details of the service to really enter into worship. Any advice?
—California

A. This question comes up regularly in classes I've taught. Here are some insightful comments from my students, many of them veteran leaders:

In RW 69, we announced a new column on technology issues in worship, to alternate occasionally with the column "What's on the Web." This first article concentrates on the worship questions that precede the technical questions in using visual images.

>—RR

I remember unsettling conversations in the fellowship hall after worship. A middle-aged woman once said to me, "We returned home from Bethel Christian camp last night and the worship there was so inspiring! My husband and I were deeply blessed. I must confess it was difficult to worship here again this morning." Another time a teen had this to say: "We got back late last night from a week-long SERVE project. It was a blast! We all felt so close to each other and I grew so much in my walk with God.

Marva Dawn. Carol Stream, Ill.: Tyndale, 2003. 191 pp. $8.79.

The Worship Sourcebook stands in a long tradition of worship books in the Christian church. The biblical Psalms may well have functioned as a prayer book for the people of Israel. Some of the earliest Christians compiled their advice about forms and patterns of worship into church order documents, the first of which, the Didache, dates back perhaps into the first century a.d. Over time, especially in the early medieval period, these documents grew very complex, with detailed instructions about every aspect of worship.

Michael Bausch. Alban Institute, 2002. ISBN 1-56699-271-0. 137 pp. (paperback). $14.50.

In this book, intended for leaders and those on the front lines of worship planning, Bausch explores underlying issues, examples of multimedia, processes of building acceptance, and some practical considerations concerning uses and resources.

The church confesses that God is the maker of heaven and earth and of all things within them. This conviction about origins has great implications for the way we view the world around us. We care for this world, we see beauty in it, we recognize God's glory expressed in it, we aim to protect it, and we grieve when it is abused and damaged. The church also confesses that God has created all human beings in his own image.