September 1989
RW 13
Advent/Christmas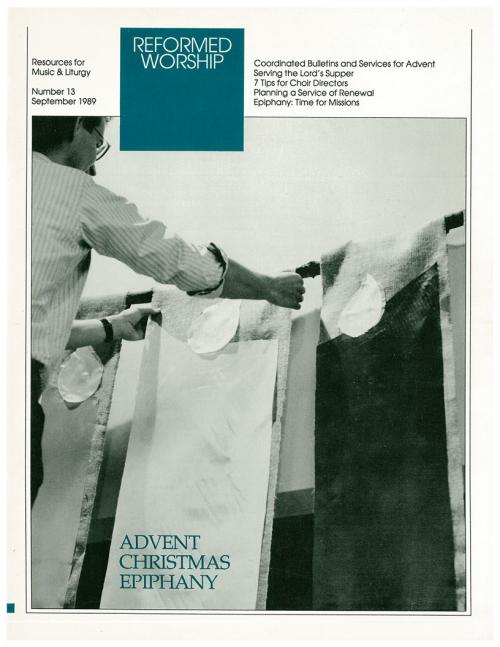 Articles in this issue:
Serving the elements in the Reformed tradition

I appreciated the article "Healing Services" by Robert Wise (RVJ11). I would like to see more articles on the practical use of spiritual gifts in Reformed worship services. One source might be Presbyterian and Reformed Renewal Ministries International, 2245 N.W. 39th St., Oklahoma City, OK 73112, (405) 525-2552.

Listed on this page are collections of keyboard music, some of which contain music for use in worship services during Advent, Christmas, and Epiphany, others which are devoted exclusively to these seasons. Since there is a dearth of good literature written explicitly for piano in worship services, this list includes collections that are intended for organ, manuals only, but that are suitable for the piano as well.

Hymn-Tune Competition

Hymn-tune competition in celebration of the 150th anniversary of an urban church in the Reformed tradition. Tune to be composed for the winning text entry. Deadline for hymn tune: December 1,1989. For the text and details, contact: Hymn Competition, Central Reformed Church, 10 College NE, Grand Rapids, MI 49503, (616) 459-3260.

Banners. Different people have different opinions about this form of liturgical art. Some folks don't like the idea of anyone being allowed to hang "just anything" in front of the sanctuary. Others are grateful that someone took the time to change an otherwise drab setting. Some people wish the banner-maker would stick to counted-cross-stitch. Others would have liked the pink a little more mauve to go with the cushions of the chairs up front.

The night we all went caroling.

It's the second Sunday of Advent. Just before the morning benediction the pastor reminds us to dress warmly for the evening service, which is going to be held mostly outside. Outside it is 27 degrees Farenheit and snowing. But from experience we know that we will have a bigger crowd than usual this Sunday evening.

A series of resources for the four Sundays of Advent and Christmas Day

This series of Advent-Christmas worship resources is meant to provide a framework for a deeper, richer experience of the worship of our God, who in his eternal plan saw humankind in its desperate need and sent his Son, Jesus.

O IMMANUEL, we come to praise you on this first Sunday of Advent. A new year is beginning, a new year in which we eagerly anticipate the wonder of your coming among us. A new year in which to worship you, to heed your call to obedient action, to listen to your teachings. Each Advent is like seed sown in our lives. May it not be choked by the weeds of work and shopping and parties and decorating and baking. May it not be ground underfoot by the intense soil of cloying sentimentality so that it cannot survive the fierce pressures of the seasons.

Planning a service to rekindle our vows and commitments

Vows have lost their value for many people in our society. Marriages are discarded, church membership obligations ignored.

This service is intended for the first service of a new calendar year or as a Watch-Night Service. Churches might use such texts as 2 Chronicles 16:9 or Hebrews 6:13-20 to emphasize God's commitment to us during the new year. Psalms and hymns are selected from the 1987 Psalter Hymnal (PH) and Rejoice in the Lord (RL). Scripture verses are taken from the NIV.

CALL TO WORSHIP

Congregation, what is your source of comfort and encouragement?