December 2006
RW 82
Lent/Easter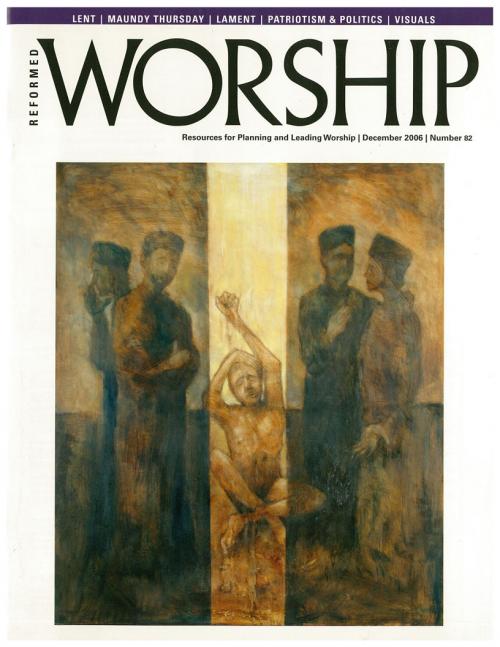 Articles in this issue:
Grand Rapids, Michigan,
January 5-6, Calvin College

Seven pod groups from Grace United Church began meeting in June 2003 to plan worship services for Lent 2004 (for more on pods see RW 75). The theme for the season was "Covenants."

Publishing is a strange thing. As I write this editorial it is the end of August. I have survived the heat wave that made its way across the United States and parts of Canada and I am enjoying the cooler temperatures. But when this issue is released it will be November. I can't help wondering what the world will be like in three months. Will the conflict between Israel and Hezbollah be over? What will be going on in Iraq? How much will gasoline cost?

This chapel service was presented on Maundy Thursday at Unity Christian High School, Hudsonville, Michigan. The service was designed to present a continuation of the Christmas celebration into Holy Week. We wanted students to reflect on the truth of Christmas, that Jesus was born ultimately to die for us. We also wanted students to see the reality of the world into which Jesus was born—a world filled with sin and in desperate need of redemption. The dramatic reading reveals the depth of God's grace—allowing his only Son to come into a world of darkness and death.

"Why is light given to one in misery,
and life to the bitter in soul,
who long for death, but it does not come,
and dig for it more than for hidden treasures;
who rejoice exceedingly,
and are glad when they find the grave?"

Job 3:20-22

 

Our worship planning team sat around the table, discouraged by the personal suffering and global disasters surrounding us. As we thought about ministering to these needs, we were reminded that God uses suffering to refine our character. What better time than Lent to reflect upon our own hardships in light of Christ's work on the cross?

A familiar feature of Advent and Christmas worship both at home and in church is the Advent wreath. Each Sunday of Advent another candle is lit, culminating in the lighting of the Christ Candle on Christmas Day.

Less familiar to many is the Lenten triad—an adaptation of the Advent wreath that can also be incorporated into individual or family devotions or used in congregational worship.

Eyes to See

Do you ever remember a time, walking in the woods or just looking out your kitchen window, when you saw the sun's rays filter through the mist, casting a shadow between the branches of a pine tree? And you sensed hope in and through that light?

Do you remember a worship service when, just for a moment, passing the peace became more than a chore and you looked at your neighbor more clearly? And you sensed awe and delight in and through another's eyes?

Even here, people come for a church service," says Pastor Rob Knol, standing at the back of the gym of the Boys and Girls Club in Valparaiso, Indiana, where Daybreak Community Church has just completed its worship service.

Lent is a time for reflection on the Passion of Christ as well as on our own lives. As the visual ministry team at St. Timothy, our challenge was to bring the Passion of Christ to our congregation in a tangible, intimate, visual way. We also wanted the message of the Passion to progress weekly, reminding the congregation of the previous week's message without taking away from the message of the day.