December 2010
RW 98
Lent/Easter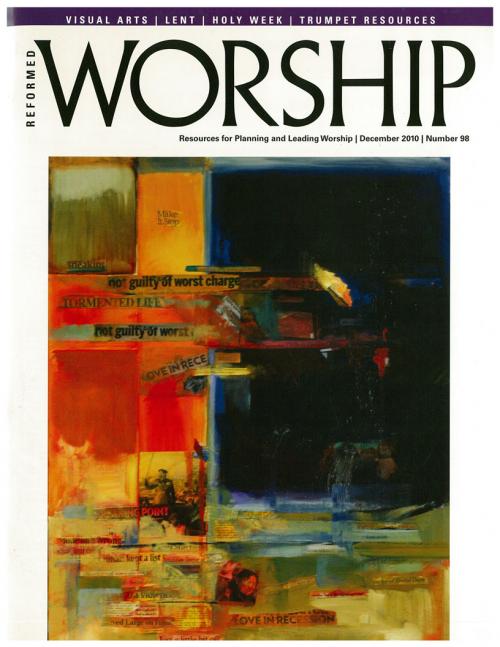 Articles in this issue:
O Lord, Throughout These Forty Days

Easter Sunday celebrations are one of the high points of our Christian faith and worship. As such the worship planned for this day ought to be particularly festive. While there are many ways to heighten the festivities through visuals and movement, music is of particular importance on this day—especially music that includes trumpet and brass. Gathered below is a compilation of music for your consideration, including commentary about its difficulty level and other helpful information.

*Denotes optional timpani accompaniment.

Symbols, shapes, and colors help us to visually embody the Christ story and spiritual truths of Holy Week. As artists reveal these biblical images through paint, glass, photography, or mixed media, we visually relive Jesus' last earthly days in Jerusalem. This was the purpose of Trinity's first arts festival, "A Celebration of Christ-centered Arts," a two-day event held on Palm Sunday weekend in 2009. The festival was open to the public all day Saturday and on Sunday afternoon. The art also became an engaging part of our Sunday worship service.

While Isaiah 53 was written with the captivity of Israel in mind, its verses contain a prophetic account of the sufferings of Christ, including the design of his sufferings. Jesus suffered for our sins, in our place. This atonement is the only way of salvation. By his sufferings Jesus purchased for us the Spirit and grace of God. We will endure if we love him who has first loved us.

This service was designed to include the following elements:

The following service was part of a Passion Week emphasis in Trinity Western University's thirty-minute campus chapels in the spring of 2010. Our intent was to "watch and pray" with Jesus: to listen to the prayers of his heart at this most crucial time in his passion, and thus, as the disciples longed to do, be taught to pray. To do this, we interwove Luke's record of the Gethsemane prayer with the High Priestly prayer in John 17. The overall spirit of the service was contemplative, with lots of room for silence.

The following article, though not typical for Reformed Worship, is well worth spending some time on. Pastors, musicians, and worship planners alike can benefit from considering the pairing of text and tune and the challenges that arise from a plethora of choices. In addition, several denominations are in the process of developing new hymnbooks for congregational song. This series of articles provides a glimpse of some of the detailed discussions that take place when considering the pairing of texts and tunes.

—JB

There on the pulpit, my sermon was dead. Again. It was just too much: too heavy, too complicated, too cumbersome. It had given up its Holy Ghost. But I carried it up there to preach anyway. The truth is, after twenty years of preaching, I got lost for a while, and I preached a lot of roadkill.

For the sake of my soul and for the souls of my hearers, I've identified three forces from within and without that were killing my sermons before God made me able to breathe life into them again.

My God, my God, why have you forsaken me?" Psalm 22, one of the greatest laments in the psalms, begins with this poignant cry of Christ on the cross. The Jews who had gathered at the foot of the cross (whether to mourn or to mock) would have heard these first few lines of the psalm and been led by their theological training to recall the psalm in its entirety. It is as if Jesus spoke the entire psalm as he hung in agony on the cross—proclaiming both his profound identification with a suffering world and the unlikely victory his suffering would produce.

What language shall I borrow to thank you,
  dearest Friend,
For this, your dying sorrow, your mercy
  without end?
Lord, make me yours forever, a loyal servant true,
And let me never, never outlive my love for you.

—Medieval Latin poem

Q We hear a lot about people "giving things up for Lent." What implications might this practice have for corporate worship?

A Individuals often go without a certain food or activity as a way to make Jesus' journey toward the cross more prominent in their life. But perhaps congregations could consider similar practices or emphases communally.