December 2007
RW 86
Lent/Easter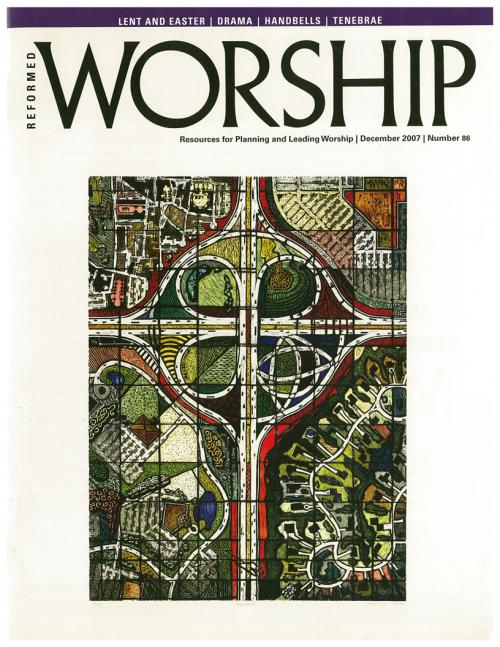 Articles in this issue:
This is the second in a series of articles about encouraging faith formation in your congregation's worship.

You may be wondering why we chose to profile Mars Hill Bible Church, since usually we profile churches within the Reformed tradition. Mars Hill, led by Rob Bell, has a national reputation for being a growing, leading-edge church. While many churches are grappling with the seeming exodus of their young adults, Mars Hill and churches like it are attracting young adults in droves. That led me to wonder what it was about Mars Hill that appealed to young adults, and what we can learn from that church.

In RW 85, Corwin Smidt wrote an article on politics and worship from a United States perspective ("Pulpit Politics: Are They Oil and Water?" RW 85). This time we've invited a couple of Canadians to give their perspective on the same topic.
—Editors

God sees the plight of refugees. He hates the injustice that leads to their displacement from home and country. The church, called to emulate God's character, must also care about the hardships of refugees. One way to do so is to incorporate into a worship service a celebration of God's just character and a call to care for refugees by performing this drama.

Q My cousin's church now celebrates communion early in the service before the kids leave for children's church. Is there anything wrong with that? Wouldn't that be a good plan for those of us hoping to incorporate children more fully in the sacrament?

In his fine book The Return of the Prodigal Son, Henri Nouwen describes how and when he first saw Rembrandt's painting by that title:

Solid. According to an online dictionary, solid means, among other things, "being of a substantial character; not superficial, trifling, or frivolous; real or genuine; sober-minded; fully reliable or sensible." Solid—it's a good word; a solid word.

It's about halfway through the Sunday morning service, and Pastor Tim is standing at the communion table holding a loaf of bread in his hands. He is about to bless the bread, break it, and share it with God's people. He is feeding the flock of God.

Earlier in the service he fed the congregation by reading and expounding on God's Word. After that he invited them into prayer for the church and the world. Word, prayer, and meal—these are food for the flock, means of grace. And they are the place where pastoral care begins.

The handbell choir may be the ultimate expression of music-making as a community of believers. The ensemble cannot function without each individual; at the same time, the contribution of each individual is meaningless apart from the whole. This reality, however, makes supporting a handbell choir difficult for churches that simply cannot enlist enough qualified ringers to rehearse on a regular basis.

Lord's Supper Responses from Readers

Previous issues of RW invited readers to share reflections of their participation in the Lord's Supper as well as creative expressions of the teaching related to the Lord's Supper. Included below are some reader responses. Please continue to send us your thoughts and creative ideas in anticipation of RW 88, a theme issue on the Lord's Supper.